Lotus parts specialist for over 40 years, r.d. enterprises has a large inventory of original and replacement parts for your classic Lotus, including Elan, Europa S1, S2, TwinCam, Elan Plus 2, Elite, Eclat and Esprit .
This web site is not a complete listing of every part we can supply.
We have LOTS of parts in stock that are not shown on the website.
Contact us with any parts inquiry.
Use the free online Parts Manuals
Click on the PARTS MANU'LS button at the top left side
---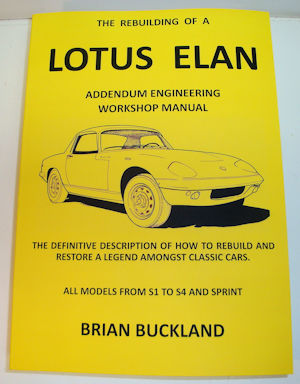 The 2nd Edition of Brian Buckland's Elan Book is available now!
$95 + shipping.
---
NEWSLETTER
Our newsletter will help keep you up to date about our latest parts offerings.
We email five or six times annually. The latest newsletter was emailed November 14, 2018 and we'll be mailing the next one later in January 2019.
If you did not receive the newsletter you are not on our mailing list or we do not have your current email address.
Please contact us at rdent@rdent.com with your name, address, type of Lotus owned and email address if you want to be included on the list for future emails.
---
January 2019 Internet Specials are posted
Garage Sale updated December 31, 2018
Lotus Cortina Parts updated December 5, 2018
Lotus Elan Parts updated December 31, 2018
Lotus Elan Plus 2 Parts updated December 6, 2018
Lotus Europa Parts updated December 21, 2018
Lotus Esprit/Elite Parts updated December 21, 2018
Carburetor Linkage updated April 29, 2015
Carburetor Mounts updated April 5, 2017
Tool Chest updated October 15, 2018
Parts updated July 25, 2018 We stock Millers Oils products
And I've finally got some info on the About page
r.d. enterprises Business Hours: Monday-Thursday 8:30-5:00 ET, Friday 8:30-4:00 ET
---