Lotus parts specialist for over 40 years, r.d. enterprises has a large inventory of original and replacement parts for your classic Lotus, including Elan, Europa S1, S2, TwinCam, Elan Plus 2, Elite, Eclat and Esprit .
This web site is not a complete listing of every part we can supply.
We have LOTS of parts in stock that are not shown on the website.
Contact us with any parts inquiry.
Use the free online Parts Manuals
Click on the PARTS MANU'LS button at the top left side
---
Calendar
Closed for Christmas holiday December 24, 25, 26
Closed for New Years holiday December 31 & January 1
---
Looking for a holiday gift idea?
How about an rd enterprises gift certificate?
Just phone or email and we'll help you simplify your holiday shopping!
---
America British Reliability Run, September 20-22, 2019
Ray and Linda ran their Elan in the ABRR this weekend: @ 550 miles door-to-door without any major problems. Our fundraising efforts were very successful: Team Lotus raised over $1100, and the current total amount raised by all 33 teams was over $40,000! Wow! It was a successful event!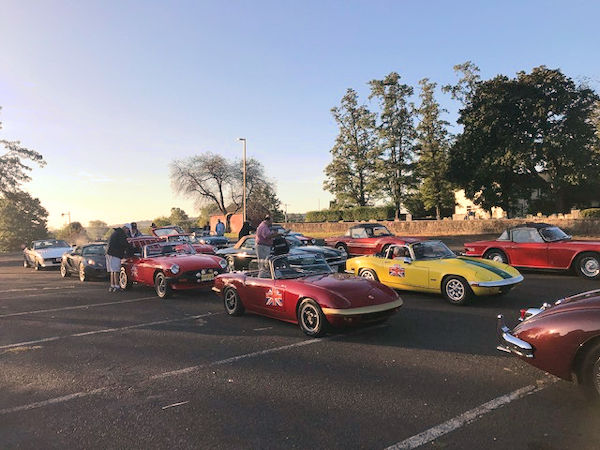 Staging for the start of 2019 ABRR
---
Lotus PALS Garage Tour, May 25, 2019
---
NEWSLETTER
Our newsletter will help keep you up to date about our latest parts offerings.
We email five or six times annually. The latest newsletter was emailed September 30, 2019
If you did not receive the newsletter you are not on our mailing list or we do not have your current email address.
Please contact us at rdent@rdent.com with your name, address, type of Lotus owned and email address if you want to be included on the list for future emails.
---
December 2019 Internet Specials are posted
Garage Sale updated November 20, 2019
Lotus Cortina Parts updated November 20, 2019
Lotus Elan Parts updated November 20, 2019 Brian Buckland TC Engine Supplement available from stock!
Lotus Elan Plus 2 Parts updated November 20, 2019
Lotus Europa Parts updated November 20, 2019
Lotus Esprit/Elite Parts updated September 27, 2019
Carburetor Linkage updated April 29, 2015
Carburetor Mounts updated April 5, 2017
Tool Chest updated June 4, 2019
Parts updated September 27, 2019 We stock Millers Oils products
And I've finally got some info on the About page - Updated April 12, 2019
r.d. enterprises Business Hours: Monday-Thursday 8:30-5:00 ET, Friday 8:30-4:00 ET
---