---
r.d. enterprises
290 Raub Road, Quakertown, PA 18951 USA
Tel: 215-538-9323
Email: rdent@rdent.com
April 2020 Specials
Each month we will feature merchandise at special prices.
Specials will change at the beginning of each month, so check back regularly.
Mention this internet special to receive your discount!
---
Staying at home?
Get your car ready for Spring now. We stock belts and filters, spark plugs, ignition wires, points and condensors, distributor caps and rotors, Pertronix electronic ignition, ZDDPlus and lots more that you may need. And during the month of April you'll receive a 10% discount on these ignition wire sets and NGK spark plugs.
Check the listings below, take a look at our website or contact us directly for current pricing of these parts!
Ignition Wire Sets
TwinCam (Elan, Elan +2, Europa TC, Lotus Cortina)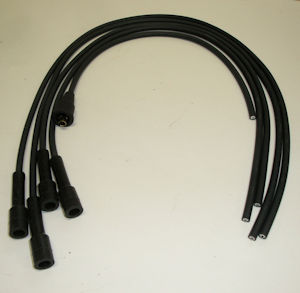 Ignition Wire Sets for Lucas 23D & 25D
Black 7mm supression ignition wire sets for original style side entry distributor cap (DDB101) used on Lucas 23D and 25D distributors. Choose from right-angle spark plug ends or straight ends.
Set includes four spark plug wires and coil wire.
Ref. 26E0740KBAS Right-Angle Wire Set $30.00
Ref. 26E0740KBSS Straight Wire Set $30.00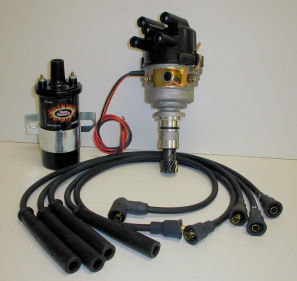 Ignition Wire Set for Lucas 43D

8mm BLACK SUPPRESSION WIRE, STRAIGHT PLUG ENDS for replacement distributors based on the later Lucas 43D distributor body. These wires plug into the side entry cap.
Ref. 26E0740-43BL Ignition Wire Set $29.00

Europa S1 & S2 (Renault)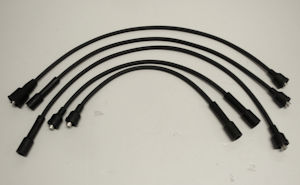 Set of five wires: four spark plug wires and coil wire for Europa S1/S2 with original Renault engine (non-crossflow head)
Ref. 54E0740 $36.00
Esprit, Elite, Eclat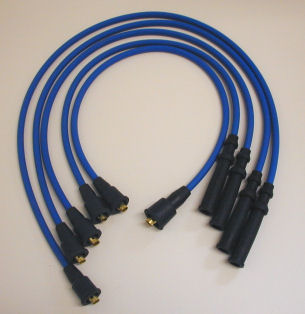 Set of four spark plug wires and special long coil wire for all normally-aspirated Esprit, Dellorto-carbureted Turbo Esprit and Bosch-injected Esprit Turbo. This 8mm wire set also fits Elite, Eclat and Jensen Healey with 907 engine.
Ref. 910E9197-KBL $45.00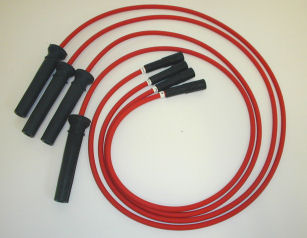 Set of four spark plug wires for the Esprit Turbo with Delco ignition 1989-1995. Top quality 8mm wire red wire.
Ref. 910E6953-KBR $59.00
---
NGK Spark Plugs
BP6ES Europa Renault and 907 engines (non-Turbo) $4.50 each
BPR7ES All TwinCam $4.50 each
BPR6EY Esprit Turbo through 1989 $4.50 each
BPR6EKN Esprit Turbo charge-cooled 1990-on $9.00 each
BKR6EKC Esprit V8 $9.50 each
---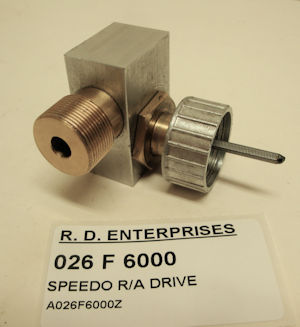 Speedometer Angle Drive
Just arrived! New design right-angle speedometer connection at the gearbox; used on all Elans, Plus 2 and Lotus Cortina. This new design replaces original Smiths unit, and it costs less too!
Ref. 26F6000 $208.00
---
Internet Special prices are only applicable to stock on hand.
Prices do not include shipping unless otherwise noted.
You must mention this internet special to receive your discount!